Bush and liner removal
Our kits reduce bush and liner removal time from hours to minutes!
If time is precious and you are in the business of reducing maintenance time and costs, the Hanley Smith 'BushOut' and 'Urge Tool' will be of interest to you.
One of the problems of aircraft landing gear maintenance and overhaul, which can be particularly difficult and costly in terms of component damage, is the removal of bushes and liners. To overcome this problem we have developed unique extraction systems, which quickly and cleanly withdraw interference fit components, without damage to either component or housing. Bush and liner removal is now simpler than ever!
Extracts most bushes and liners from 1.7″ (45mm) to 4″ (100mm) diameter. The extraction is performed by either a press, a hydraulic ram or pneumatic gun. Find out more >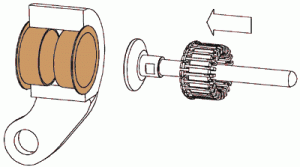 The Urge tool has been designed to remove bushes that are back to back and fitted with negligible gap between them. Find out more >