'BushOut' – bush and liner removal system
Cuts bush and liner removal time from hours to minutes!
If time is precious and you are in the business of reducing maintenance time and costs, the Hanley Smith 'BushOut' will be of interest to you.
One of the problems of landing gear maintenance and overhaul, which can be particularly difficult and costly in terms of component damage, is bush and liner removal. To overcome this problem we have developed a unique extraction system, which quickly and cleanly withdraws interference fit components, without damage to either component or housing.
A patented expandable collet which fits within the bore of a bush or liner and engages on its inboard end, can extract most bushes and liners from 1.7″ (45mm) to 4″ (100mm) diameter (For smaller diameters see the 'BushBaby'). The extraction is performed by either a press, a hydraulic ram or pneumatic gun. A 45 kg wheeled tool kit enables interference fit components to be extracted at any location, quickly, cleanly and without damage to either component.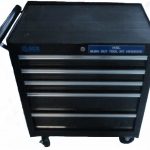 Advantages of the BushOut – bush and liner removal tool
The need to remove liners for inspection or replacement purposes invariably results in five high cost and resource consuming conditions, ALL of which can be eliminated or greatly reduced using the portable 'Bushout' Kit.
Manpower saving through operator safety
There is no mis-hitting punches or drifts, no splintering of shafts, no smashed fingers or limbs. There is nothing which requires to be hit.
Downtime saving through less out of service time
The equipment is fully portable and can be used equally well in the hangar, on the pan or in the workshop. Those bearings and liners which, until now, had to be cut out can now be pulled by a fitter, opening up the possibility of re-fitting either the same component (if it is within service limits) or a pre-machined item.
Replacement saving through component life extension
Zero damage from extraction removes the need for damage repair. There may be corrosion which has to be worked on and sometimes the only satisfactory method is by machining. It is this process which removes structural integrity and eventually scraps the component. Regular inspection and early corrective and protection action can preclude a major machining need.
Capacity saving through machine utilization
Avoiding the need to remove liners by machining releases capacity for more necessary and productive machining operations. Effectively, the machine occupation time is cut by almost half and more when housing repair is not required. Typically, a 747 nose axle will occupy a horizontal borer for perhaps a day, having the axle liner removed. Using the 'BushOut Kit', both axle liners can be removed within 10 minutes.
Space saving through taking less floor space
The ability for one man to 'take the press to the job' can save the need to marshal components around the workshop. Ideally, the 'BushOut Kit' will be in the strip down area so that all cleaning can be completed at the same time.
The BushOut kit
The BushOut Kit is supplied within a box that is attached to a trolley making it compact, easy to store and move around.
The BushOut Kit contains the following major components (some minor components are not listed):